Caribbean Social Studies Book 1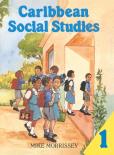 ISBN:
9780333536148
Published Date:
1990-09-20
Weight:
94grams
Dimensions:
248 x 187mm
Caribbean Social Studies
Caribbean Social Studies is an innovative six-level course for primary and all-age schools. To ensure in-depth coverage for Year 4 there are separate books on the individual countries. These follow the exciting and progressive style of the series and introduce a new concept in course material for the Caribbean.
All the books in the series include many Social Studies activities, and are highly illustrated with photographs and colour artwork, making the series attractive and easily accessible to students.
Studies the environment at an elementary level:
Basic needs
School and school activities
The home and family
Weather