Caribbean Wall Map Paper Edition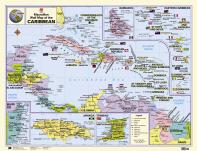 ISBN:
9781405026376
Published Date:
2004-03-15
Extent:
2pp
Weight:
175grams
Dimensions:
890 x 1160mm
A revised edition of this highly popular and best-selling wall map.
The main political map portrays the whole of the Caribbean region and includes rivers, mountain peaks, island and country names, capital cities and other important towns. Transportation information is included on roads, railways, ports and airports.
The map also features more detailed, larger scale inset maps of Barbados, Belize, the Eastern Caribbean islands, Jamaica and Trinidad. Flags have been added for extra enhancement.